St. Matej of Chisholm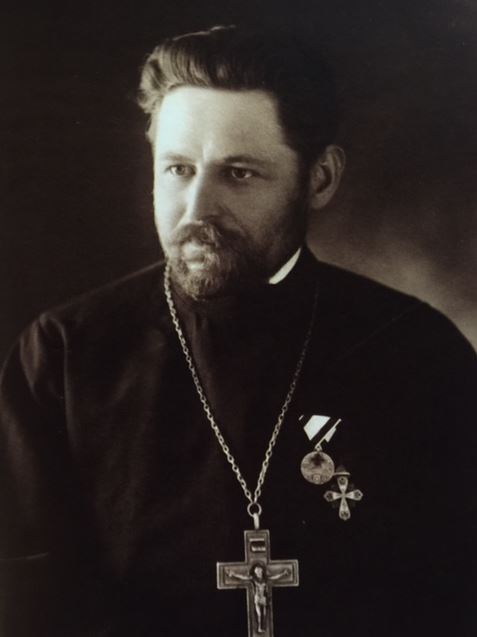 Righteous Priest, Missionary to America, and Hieromartyr
St. Matej (Mah-tey) Stiyachich was born on Dec 11.1883 in Klobuk, Herzegovina. He lived in Chisholm at the end of the Roaring 20s. He was a married priest with several children. He also served in other parishes in the United States before and after living on the Range. Due to the Depression, priests moved more regularly from parish to parish much like everyone else moved to find work. He returned to the village of Smiljan, Lika, Croatia is where Tesla's father served and where Matej returned to in 1935. Smiljan didn't have a priest for long time and that Tesla himself encouraged Matej to go and serve in Smiljan to the parish where Nikola Tesla, the great Serbian American Inventor and starter of the modern technological world. Both St. Matej and Fr. Peter Stijacic were friends with Nikola Tesla. (Interestingly, Tesla's father, Milutin, had been the Orthodox parish priest in Smilyan many years before).
Fr. Matej was arrested in 1941 by the Nazis who had by this time invaded a large portion of Yugoslavia. He was arrested for merely being a Serbian Orthodox priest. He was taken by the Nazis to the notorious Gospich Prison Camp where he endured daily beatings from the guards under interrogation. As witnesses stated he was barely moving after those beatings. After a period of time he was taken to the Velebit Mountains to the Concentration Camp Yadovno where he was killed and his body thrown into a deep stone pit in the mountains. A person could not climb out of such a deep pit without a rope being lowered. It was only after the fall of Communist Yugoslavia in 1991 that excavations of these pits were permitted.
He was glorified by the Orthodox Church in 2004.
Read about more Saints of North America